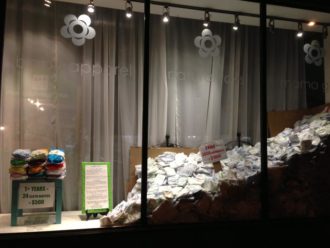 Every parent can find a good reason to "convert" to washable nappies.
1 – From pollution to reuse
It is estimated that each child uses between 4000 and 6000 disposable nappies, corresponding to 1 ton of waste sent to landfill. If you already differentiate the waste, preferably use the bike or public transport, drink water from the aqueduct, eat seasonal fruits and vegetables, turn off unnecessary lights, etc…, then the washable nappies are for you! It's another way to be personally involved in sustainable management of natural resources.
2 – Baby health
Disposable nappies contain chemicals that come in constant contact with the baby's skin. Washable diapers are instead made with natural fibers or synthetic breathable materials, which is why they are recommended for babies who suffer from nappy rash. The larger size of the washable nappy compared to disposable one favors the correct development of the hips without preventing the baby's movements.
3 – Saving
Depending on the type of the chosen model, the cost of the purchase since the birth of washable nappies can vary between € 230 and € 400, compared to an estimated cost for disposable nappies of  1000-1500 euros. Nappies can be washed in the washing machine with the rest of the laundry, with a fully loaded washing machine every 3 days in the first year and a half of the baby's life. Of course in the case of a second child the saving is even greater being able to use his brother's nappies!
4 – Early potty training
Disposable nappies give the baby a constant feeling of "dry". With washable nappies, on the other hand, the child learns to associate the feeling of wetness with the moment of the pee, favoring the early abandonment of the nappy. Based on my experience I can say that "psychologically" washable clothes are a help for parents: it was not a problem for me to leave my children sometimes in their underwear and trousers at home because even if they got wet it was like to wet (and then to wash) a nappy. On the other hand, I was more encouraged to offer them a potty or toilet to keep their nappies clean.
If you are interested in learning more about washable nappies continue reading the articles on this blog; I also recommend that you visit the website www.nonsolociripa.it managed by an association of parents who use washable nappies.
I suggest reading an article written by four Italian Paediatric Doctors on the subject of washable nappies, which appeared in the magazine "Medico e Bambino" (number 6, June 2011; pp. 374-378).
How to choose nappies and how much they cost.