Straws are certainly not a basic necessity, but  they are usually found in our homes, especially if there are children.
Unfortunately, it is now known that straws are part of those disposable plastic objects that can seriously damage the sea and its animals if dispersed in the environment: they are often found on the coasts among the waste transported to shore by the waves and unfortunately also in the stomach of turtles, fishes and dead water birds. Recently the European parliament approved a directive that bans the plastic of single-use products for which there is a more ecological alternative: by 2021 it will not be possible to market plastic cutlery (forks, knives, spoons and chopsticks), plates, plastic straws, cotton buds made of plastic, plastic sticks for balloons, oxy-degradable plastics, food containers and polystyrene foam cups.
In this video a surfer finds herself having to move between a sea of ​​plastic (including straws): even if certainly our disposable straws will not end up in the Indian Ocean, it is really the time to worry about the environment in which our children will live and contribute with our choices, even if small, to reduce the production of waste.
Visualizza questo post su Instagram
Reusable stainless steel straws
When I discovered the possibility of replacing disposable straws with washable reusable straws, I immediately activated to be able to offer them in the store, knowing how much our children like them …
I therefore chose stainless steel straws that I personally had analyzed by an Italian laboratory: I therefore have a certification that certifies that the straws sold by Pannolinofelice are made of 304 stainless steel suitable for contact with food. I avoided buying colored straws because every steel processing involves the use of chemical agents: it would be like dyeing an organic cotton garment with low quality dyes. For safety I preferred not to do it.
I looked for straws of 2 different sizes, one standard and one shorter. The longest straw (26.5 cm) is suitable to be inserted in 0.5 liter bottles: you can therefore always carry the straws with you and use them with small children when you take bottles of water or tea out of the house. The shorter straw (21 cm) is ideal for younger children: not being able to lower the top of the straw to bring it to the mouth (as is done with plastic straws) I chose a size that would be comfortable for children who drink holding the glass on the table.
The straws are packaged by hand in organic cotton bags of various colors. The pouch can also be useful as a cutlery tray if you eat at work and bring your own lunch. Or you can put the knife in it when you have picnics outdoors and you never know where to put the knife to cut the cake or sandwiches!
Each pack of steel straws is equipped with a small brush: it is used to clean the straw internally, especially if the straw is used to drink thick juices, milkshakes, milk with biscuits. If it's cleaned immediately after use or if it is used to drink water, infusions, drinks, just rinse it under a jet of running water. Since the straws are made of pure stainless steel they can also be put in the dishwasher.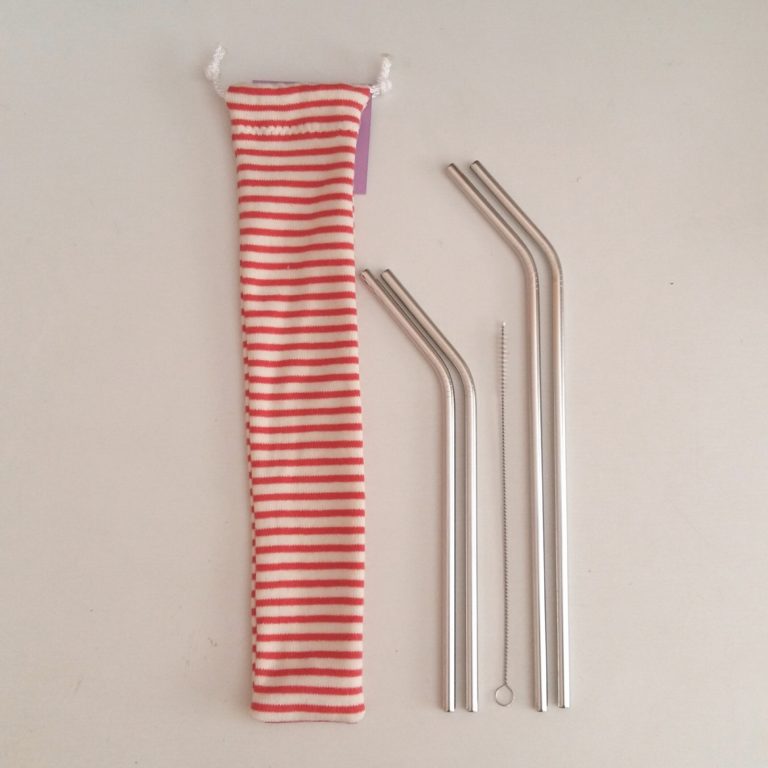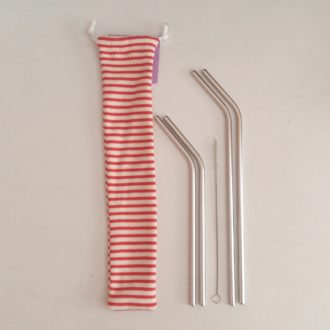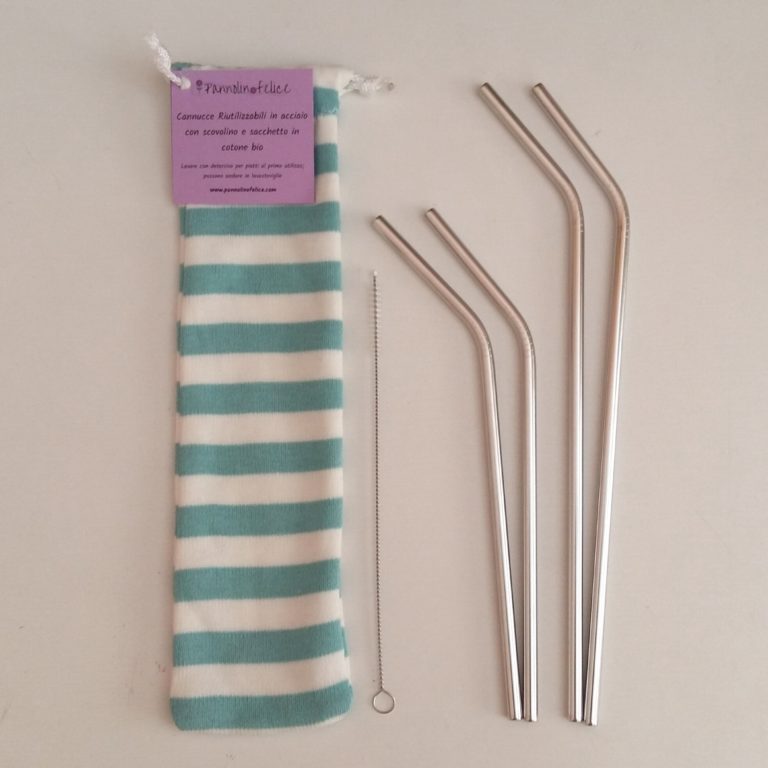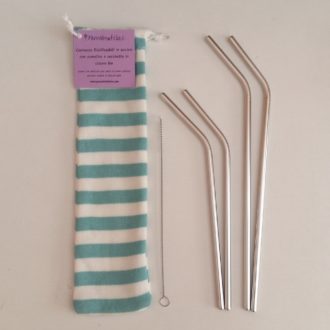 Personalized steel straws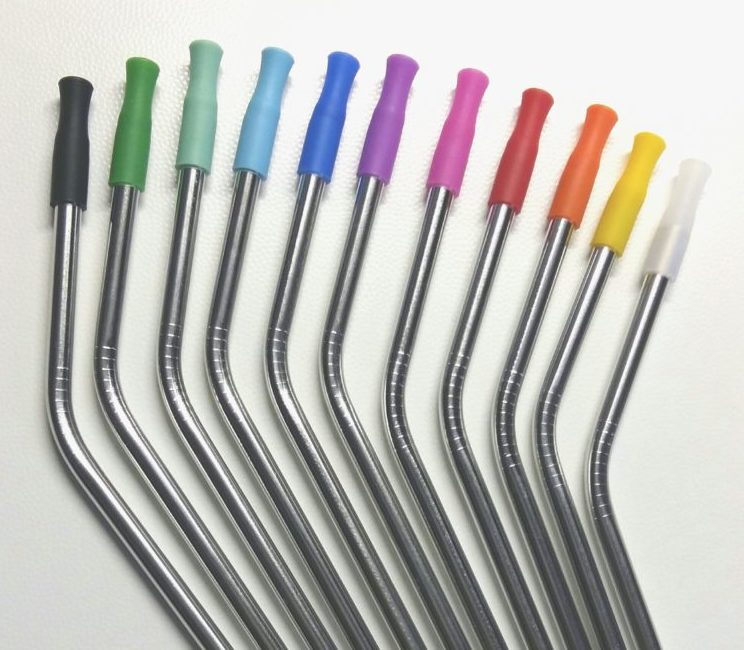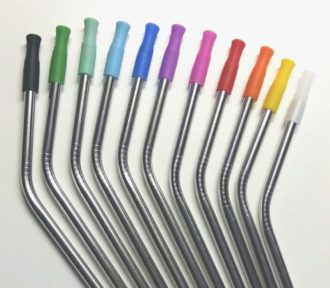 To make the straws different for siblings, family celebrations, birthdays, you can add small colored silicone tips. The soft silicone also makes the impact of the lips on the straw more pleasant and softens the temperature on the lips in case of very cold drinks. Then, needless to say, everyone is sure to like a touch of color!
We do not recommend the use of silicone tips for straws with children younger than 3 years.
It is also possible to have writings engraved on the straws: names, brands, dates. It can be a nice idea to use a personalized steel straw as a wedding favor, or to give as gifts on special occasions such as conferences, parties, events. Bars and clubs that use plastic straws could replace them with reusable straws stamped with their logo.
We carry out customizations of steel straws with laser marking starting from 10 pieces: for quotes just write an email to pannolinofelice@hotmail.it or call n. 342 7616744.
For any other information you can write directly below, for purchases of metal straws instead visit Pannolinofelice e-shop.