A new intelligent product enters Pannolinofelice assortment: I present the J Bimbi one-size-fits-all bodysuits. The baby bodysuits proposed by J Bimbi are an innovative garment designed to meet the needs of saving and functionality of families. They are bodysuits in stretch organic cotton that fits from 0 to 3 years thanks to the special weaving: a single body follows your child in growth because it is elastic both in height and in width.
Advantages of J Bimbi bodysuits 0 – 3 year
It is very easy to understand why J Bimbi one-size- fits-all bodysuits are so special:
saving on the purchase of children's bodysuits, because a single body covers 4 or 5 sizes
you save space, because you don't have to store in the closet the garments that no longer fit
excellent fit of bodysuits with washable nappies, which need more space around the bottom
J Bimbi bodysuits are in organic cotton, with 6% elastane to give elasticity to the fabric. You can choose the half sleeve version or with the sleeveless one. J Bimbi bodysuits are produced in Turkey, but the Colpharma company is Italian and it's based in Parma.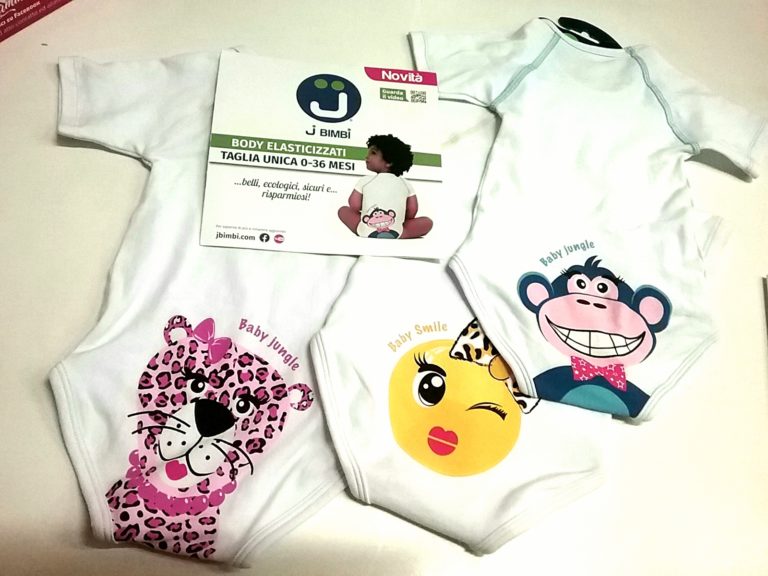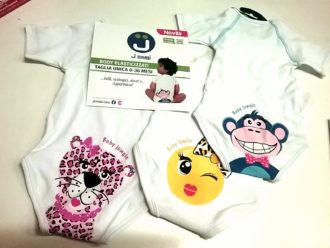 Pre-order body J Bimbi
For this first order I am pleased to introduce you to and test the product, offering a 10% discount to those who join the pre-order by Tuesday 7 May 2019. The products will be delivered to me in the following days. For those who buy online, I ask for advance payment upon confirmation of the order, while for those who collect in the store in Cremona I ask to come within a week of the arrival of the leotards in the store.
The pre-order is open for the "four seasons" half-sleeved organic cotton bodysuits and for the sleeveless summer bodysuits. You can see the patterns available directly on the J Bimbi website. At the prices indicated below, the 10% discount must be removed if you subscribe to the pre-order.
Organic cotton half sleeve bodysuit one size:
plain white € 13.90, pink or light blue € 14.90
Jungle collection with 6 jungle animals printed on the back of the bodysuit € 15.90
Dragons and Dinosaurs collection with 6 designs printed on the back of the bodysuit € 15.60, or with pink or light blue texture printed on the whole bodysuit € 16.90
Organic cotton sleeveless bodysuit one size:
plain white € 12.90, pink or light blue € 13.90
Beach collection with 6 marine animals printed on the back of the bodysuit € 14.90
Sea Life collection with 3 marine animals printed on the back of the bodysuit € 14.90
UPDATE. The bodysuit arrived and you can find them available here in the online shop: