New ECO BOOM biodegradable bamboo diapers are arrived, soft and ecological; you can macht them with our wet bamboo wipes.
Eco Boom nappies are made of woven non-woven bamboo fiber on the top and back, they are fragrance-free, chlorine-free and without harmful substances: this is why they are particularly suitable for the delicate skin of newborns.
The nappies are white, without ink, with flexible rubber bands and with a moisture indicator. The materials used for the production of the diapers are without latex, PVC, TBT or antioxidants. The absorbent core guarantees excellent absorption and keeps your baby's skin dry. The presence of natural aloe oil nourishes the baby's skin and keeps the diaper soft.
Biodegradables nappies
Bamboo is an ecological fiber because in a few months the plant reaches the right size to be cut and processed. Furthermore, Eco Boom nappies decompose 70% in 150 days, unlike a traditional nappy, which takes 500 years to completely decompose. The bamboo fiber material reduces the impact of plastic waste on the environment by 30%.

Nappies in bulk
Buy only the amount of nappies you need for your baby:
when you need small quantities to use alternately with cloth nappies
if you want to try some ones before taking more
without waste when the baby is changing the size
you save money compared to buying small packs
Certifications
Eco Boom bamboo nappies are safe on the skin, because they are guaranteed by several certifications:
OEKO-TEX Standard 100 which guarantees the safety of products intended for children
ISO 9001 which certifies the quality of the company
OK BIOBASED which verifies the degree of renewability of the materials used with a star system (Eco Boom diapers have 2 stars out of 4)
FSC indicating the use of wood products from responsibly managed forests
CE which guarantees the product's suitability for sale on the European market
Eco Boom biodegradable bamboo wet wipes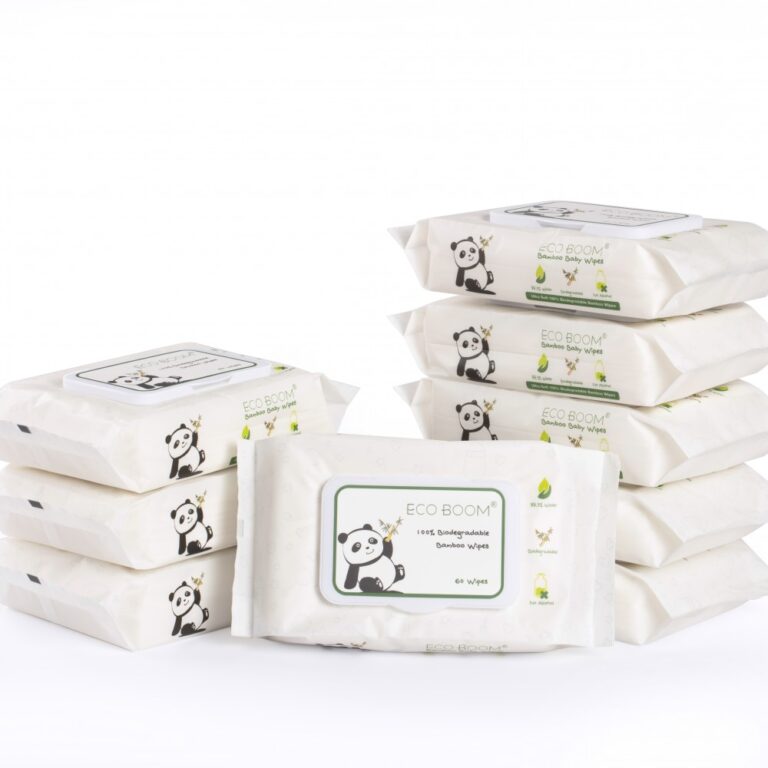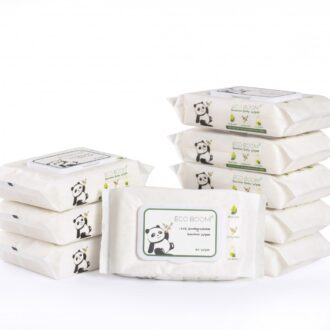 Eco Boom wipes in woven not-woven bamboo fiber are suitable for all skins, even the most delicate ones because they do not contain alcohol, perfumes or other irritants. In fact, the solution they are soaked in is made up of 99.5% purified water, then Aloe extract and glycerin. The package is resealable and the rigid opening ensure a perfect closure and keep them at the right degree of humidity. The wipes measure 14×20 cm.
You can use them for diaper changes, but also for cleaning baby's face and hands or for freshening up when you are away from home.
Try our ECO BOOM bamboo products: